Wall hooks are an essential need of every household. Traditionally, people hammered iron nails into the walls to hang clothes, bags, and other objects. This process transformed into hooks fixed on the walls with screws. With the transformation in wall construction and material, people felt the need for damage-free hanging, which resulted in the evolution of adhesive hooks. 
Most adhesive hooks are weak and do not last long. This consumer need motivated us to develop KLAPiT SUPER HOOK with enhanced nanotechnology.
Inspired by the intriguing mechanism of adhesion in geckos, the Enhanced Nanotechnology enables KLAPiT® SUPER HOOK can adhere to almost any smooth, clean and non-porous surface.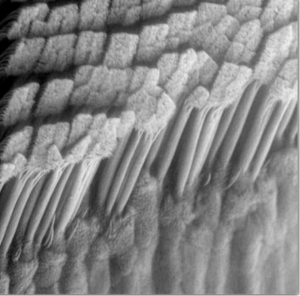 It is highly compatible with surfaces such as plastic, metal, wood, glass, brick, ceramic, stone, and many more! Its slim design reduces torque and enables KLAPiT SUPER HOOK to hold heavy weights for long.
Benefits of Enhanced Nanotechnology
Incomparable Strength – Holds 5Kg weight

Instant Application

No Residue

Non-toxic and harmless on hands

Easy removal with a simple peel-off

Works on all surfaces – Indoor & Outdoor

Waterproof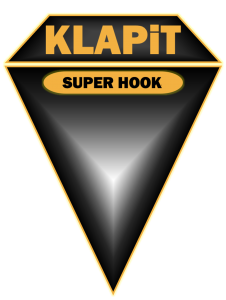 KLAPiT SUPER HOOK is an alternate to every hook, and its slim shape minimizes the torque so that the hook can hold your products for a long time.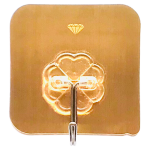 This 180-degree rotatable hook of high-quality stainless steel will not rust even in high moisture environments. The small knob at its corner makes it easy to remove the adhesive liner and remove the hook from the wall when needed. KLAPiT SUPER HOOK is large enough to hang clothes, towels, bags, belts, etc. The thin wire-shaped hook can easily hold various utility products such as kitchen utilities, keys, and home accessories.
KLAPiT SUPER HOOK uses enhanced nanotechnology adhesive used in KLAPiT SUPER TAPE. This technology provides this adhesive hook with incredible strength to hold weight up to 5Kg; the ability to stick to various surfaces such as walls, wood, stone, tile, glass, metal, and acrylic; and remove cleanly.
The Universal Hook for all surfaces
Most adhesive hooks use chemicals for which the bond strength varies according to the surface type. Certain chemicals have better adhesion to wood than tiles or stone, and therefore the hook does not perform to its optimum holding capacity on tiles or stone.
KLAPiT SUPER HOOK uses Enhanced Nanotechnology with Carbon Nanotubes that attach to all the surfaces with similar strength due to the concentrated Van der Waal force. This adhesive technology makes the KLAPiT hook stick equally well on wood, wall, stone, tiles, glass, acrylic, and metal surfaces with identical smoothness.
Adhesive Hooks that applies instantly , removes cleanly
Most hooks require users to leave them for at least one hour after application for the adhesive chemicals to dry. Also, users of these hooks usually complain that their adhesive hooks do not work in the bathroom and similar wet environments; moreover, since they use foam-based adhesives, the foam cracks during their removal.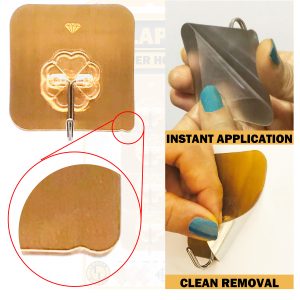 KLAPiT SUPER HOOK acts instantly and negates the need to wait for hours. Also, whether it is an incessant rainy day or a radiantly sunny day, KLAPiT® SUPER HOOK will work consistently in all weather conditions and on all surfaces. The carbon nanotubes within the multipurpose heavy-duty adhesive instill promising temperature-resistant properties, allowing it to sustain its highly-strenuous bond in extreme temperatures, ranging from -10°C to 80°C / 14°F to 180°F.
The nano-silica gel gives KLAPiT® SUPER HOOK a non-toxic composition, making this waterproof and weatherproof adhesive environmentally friendly. Additionally, the nano-silica gel firmly sticks to the surface of the hook and, therefore, does not leave any mark on your walls after removal.